HERZLICH WILLKOMMEN ​IN der KUNST-ONLINEGALERIE von c-bra
"KAUFEN SIE KUNST BEQUEM UND DIREKT VON ZUHAUSE."
​"

BUY ART COMFORTABLY AND DIRECTLY FROM HOME "

​


​MEINE THEMEN FÜR SIE! MY TOPICS FOR YOU!


MEIN KUNSTSPEKTRUM IST GROSS UND VIELSEITIG

Wählen Sie zwischen

​

Kunst:

World's End Gallery
Urban Art / Gaffiti
c-bra Art

Fotografie:

Dolls Kill
Food to die for
Colour Card of Nature​
WORLD'S END
Der Zeitgeist und die fortschreitende Zerstörung der Erde beeinflussen meine Arbeiten. Totes, Morbides, Surreales und Ausserirdisches haben mich schon immer fasziniert und zeigen sich vermehrt in meiner Kunst.
World's End steht für Bilder und Objekte mit Acryl auf Holz, Leinwand und Papier. Für stylische Wohnungen und aussergewöhnliches Ambiente.
Motiv:​ Körper, Totenköpfe, Live or Die, Knochen, Natur, Tiere, Materialexperimente morbid und archaisch.
MY ART SPECTRUM IS LARGE AND VERSATILE
Choose between
Art:
World's End Gallery
Urban Art /Graffiti
c-bra Art
Photography:
Dolls Kill
Food to die for
Colour Card of Nature
WORLD'S END
​The spirit of the times and the progressive destruction of the earth influence the works of art. The dead, morbid, surreal and extra-terrestrial have always fascinated me and show up increasingly in my art.
World's End stands for paintings and objects in acrylic on wood, canvas and paper.
For stylish homes and an extraordinary ambience.
Motifs: bodies, skulls, live or die, bones, nature, animals, material experiments morbid and archaic.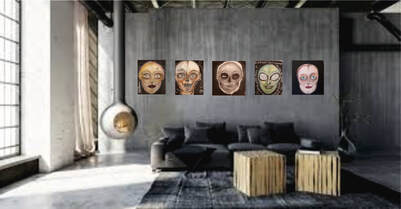 URBAN ART
Das Bemalen von allem Möglichen fasziniert mich... Im innen- wie im Aussenraum gestalte ich was ich finde. Die Spraydose lässt darüber hinaus eine neue Form der Gestaltung zu
Urban Art steht für einen Mix von Graffity und Pop Art
Motive: Einfache Formen, klare Farben, Schablonen, Grafik, Text.​ ​
​URBAN ART
​Painting all kinds of things fascinates me. Inside and outside, I paint what I find. The spray cans allow for a new kind of design.
Urban Art stands for a mixture of graffiti and pop art.
Motifs: simple shapes, clear colours, stencils, graphics, text


C-BRA
Die Modedesignerin in mir lässt sich in vielen Bildern nicht leugnen. Weibliche Figuren, Silhouetten, Mode - immer wieder ein Thema. Bekannt sind die bemalten Holzbretter, die in jeden Innen- oder Aussenraum passen.
c-bra steht für bemalte Holzbretter, Holzsäulen, Stelen, Möbel, Leinwände
Motive: Frauenkörper, Köpfe, Menschen, Tiere, Pflanzen, Silhouetten, Formen, Farben.
​C-BRA
​The fashion designer in me cannot be denied in many images. Female figures, silhouettes and fashion are a recurring theme. Well known are the painted wooden boards, which fit into any indoor or outdoor space.
c-bra stands for painted wooden boards, wooden columns, steles, furniture, canvases
Motifs: women's bodies, heads, people, animals, plants, silhouettes, shapes, colours


---

​C-BRA HILFT IHNEN IHR NÄCHSTES KUNSTWERK ZU FINDEN
Möchte Sie sich gerne beraten lassen? Ein Kunstwerk auf Anfrage fertigen lassen? Kunst verschenken?
Gerne berate ich Sie und beantworte Ihre Fragen.

​C-BRA HELPS YOU TO FIND YOUR NEXT WORK OF ART
Would you like some advice? Have a work of art made on demand? Give art as a gift?
I will be happy to advise and answer your questions.
Posten Sie ein Bild Ihrer persönlichen c-bra Kunst!




Auf Facebook oder Instagram mit dem Hashtag: #MYCBRAART
TREND - INDUSTRIAL DESIGN

Sofort denken wir an Lofts in alten Fabrikgebäuden, Metall und Wände aus Backsteinen oder Beton. Um diese Optik zu erhalten reicht es, ein paar Bilder richtig zu platzieren. Die Kombination von Holz und Metall, Beton und Leder unterstreicht den Style. In offenen Räumen kommt der Industrial-Styl am besten zur Geltung. Kunst eignet sich am Besten um das eigene Zuhause zu personalisieren -da es sich um Statementstücke handelt.
TREND - INDUSTRIAL DESIGN

​Immediately we think of lofts in old factory buildings, walls with exposed brick or concrete and lots of metal.
To achieve this look, it is enough to place a few artworks correctly. The combination of wood and metal, concrete and leather emphasize the style best. The style is at its best in open spaces.
Art is the best way to personalise your home. C-BRA Art lends itself to this as it is about statement pieces.




---
ICH BIETE IHNEN EINE GROSSE AUSWAHL AN WERKEN MIT UNTERSCHIEDLICHER TECHNIK UND STILRICHTUNG
​

DESIGN-KUNST-KULTUR​
Mein Name ist Claudia Brander alias c-bra. Früher als Designerin tätig, bin ich heute eine äusserst vielseitige Künstlerin und Kulturvermittlerin.
2008 fand ich in der Alten Chäserei einen geeigneten Platz für mein Atelier und meine Ausstellung. Die Kunstausstellung auf drei Etagen, der Kulturkeller und das Chäsikafi wurden schnell weitum bekannt. Neben kuratierten Ausstellungen vermittelte und organisierte ich Kunst und Kultur, Ausstellungen, Kulturanlässe, Workshops und Projektwochen.
WORLD'S END GALLERY
Die World's End Gallery entstand 2016 um meine andere Seite, die experimenteller, morbider und etwas dunkler daher kam, eine passende Plattform zu schaffen. Ab 2019 experimentierte ich mehr mit Spraydose im kleinen und grossen Format.
Heute biete ich Ihnen eine grosse Auswahl an Bildern und Objekten. Ich bin der Meinung, dass der digitale Trend wunderbar ist um Kunst zu verbreiten. Warum Sie Kunst online kaufen sollten?
Es gibt nichts Schöneres, als in aller Ruhe das passende Werk auszusuchen. Haben Sie ein Werk gefunden, dürfen Sie es gleich kaufen, oder bei mir besichtigen. Ob ein Werk abgeholt oder zugestellt werden soll, können Sie selber entscheiden.

WELCOME TO MY ONLINE ART GALLERY

​I OFFER YOU A WIDE RANGE OF ART PIECES IN DIFFERENT TECHNIQUES AND STYLES

​DESIGN-ART-CULTURE
My name is Claudia Brander, also known as c-bra. Having formerly worked as a designer, I am now a multifaceted artist and cultural mediator.

In 2008 I found a suitable place for a studio and an exhibition in the "Alte Chäserei". The three - storey exhibition, the culture cellar and the Chäsikafi soon became widely known. Besides curated exhibitions I meditated art and culture and organised exhibitions, cultural events, workshops, and project weeks.


WORLD'S END GALLERY
World's End Gallery was born in 2016 to create a suitable platform for my other side – a more experimental, morbid, and darker side. From 2019 on, I experimented more and more with spray cans in small and large formats. Today I offer a wide range of artistic images and objects.
Why should you buy art online?
There is nothing better than to be able to choose the artwork at home in peace and quiet. And once you have found the right piece you can buy it directly online or visit me in the gallery. You are free to choose whether to collect the work or have it delivered to you.

---
---
---
FÜR DEN C-BRA NEWSLETTER ANMELDEN
​
Folgen Sie meinen Arbeiten und erfahren Sie als erstes, was es neues gibt.

SIGN UP FOR THE NEXT C-BRA NEWSLETTER
Follow my work and be the first to know what's new.


---
​Post a picture of your c-bra art!
On Facebook or Instagram with the hashtag: #MYCBRAART​
FOTOGRAFIE
/
PHOTOGRAPHY
"Jeden Tag entstehen Fotos mit Motiven aus Natur und Tierwelt,
der grösste Teil direkt aus meinem grossen Garten."
​
"Every day I take photos with nature and wildlife motifs,
most of them from my large garden."
​
​
FOTOGRAFIEN FÜR DEN INNEN UND AUSSENBEREICH
WIE FUNKTIONIERTS?
​
Die von Ihnen ausgesuchte Fotografie wird auf eloxiertes Metall gedruckt. Dies ist für den Innen- und Aussenbereich erhältlich.
Für Bilderdrucke im Outdoorbereich haben sich Lochungen in den Ecken für eine starke Befestigung bewährt.

Der Preis ist für die Grösse: A0 / 80cm x 120cm berechnet. Die Lieferzeit beträgt ca. 14 Tage.
​Möchten Sie ein anderes Format, fragen Sie mich bitte an.
​PHOTOGRAPHS FOR INDOOR AND OUTDOOR USE
HOW DOES IT WORK?

Your chosen photograph is printed on anodised metal, which is available for indoor and outdoor use.
For outdoor picture prints, perforations in the corners have proven to be effective for a strong mounting.

The price is calculated for size A0 / 80 x 120cm. The delivery time within Switzerland is around 14 days. Please contact me if you would like another size.
FOOD TO DIE FOR - MEINE NEUE MENÜKARTE

"Totes Material hat mich schon immer fasziniert."
Das zusammenfügen zweier sehr Unterschiedlicher Objekte und damit eine morbide Aussage schaffen fasziniert mich sehr.


FOOD TO DIE FOR – MY NEW MENU
Dead material has always fascinated me. The combination of two objects that are individually beautiful and together create a new morbid statement fascinates me even more."


​
DOLLS KILL

"Mit Fotografie kann man gestalten und inszenieren.
Der Diskurs zwischen Realität und Wahrnehmung gefällt mir."

Möchten Sie etwas extravagantes in Ihrer Wohnung - dann ist eine Fotografie auf Metall gedruckt im Grossformat 80 x 120cm das richtige für Sie. Garantiert ist dieses Bild der Blickfang ihrer Wohnung!
​

""Photography can be used to stage and design. The difference between reality and perception fascinates me."
​ photography you can design and stage. The discourse between reality and perception fascinates me."
Would you like something extravagant in your apartment - then a photograph printed on metal in large format 80 x 120cm is right for you. Guaranteed, this picture is the eye-catcher of their apartment!


COLOUR CARD OF NATURE
​
Blumen- und Pflanzenstrukturen sind wunderbar und passen an jeden schönen Ort. Gestalten Sie Ihre Innen- und Aussenräume mit farbigen Akzenten im Grossformat.
​
Floral and plant structures are wonderful and fit into any beautiful place. Design your interior and exterior spaces with colorful accents in large format.



"Die Schönheit der Natur – und ihre besondere Wirkung – entfaltet sich erst,
wenn man sich ihr mit Zeit, Muße und Gefühl nähert."

"The beauty of nature - and its special effects - unfolds only,
when you approach it with time, leisure and passion."
​